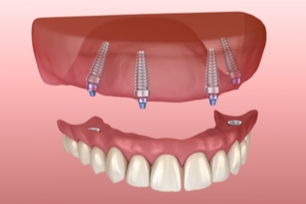 All On 4 Dental Implants
7 March 2017
All On 4 Dental Implants
We understand how hard life can be with missing or damaged teeth. Dentures or bridges are one solution, but they come with many disadvantages. People with dentures often worry about issues like plate slippage, so they have to avoid some of their favorite foods, like fresh fruit, corn on the cob, or a juicy steak. They often need to give up healthy activities such as swimming and dancing for fear of having their dentures slip, over even worse, fall out. Dentures are also a chore to take care of, and they tend to be uncomfortable for many people. They can also break or get lost. This affects a person's true quality of life, making it difficult to manage many daily activities.
Although dental crowns are often a solution, they are not always a viable choice. Those with missing teeth have problems chewing and may feel self-conscious about having gaps in their smile. Over time, facial muscles tend to relax, which can cause sunken cheeks and changes in the shape of your face. Life simply is not the same. However, over the years, patients had to undergo a lengthy, difficult and expensive process if they needed to have a large amount of teeth replaced with dental implants. Now with such advances in dental technology, procedures like all on 4 dental implants are relatively straight forward with minimal pain. What are all on 4 dental implants ? All on 4 dental implants are a newly available procedure to replace a full arch of teeth in one go. This revolutionary dental implant procedure allows implant surgeons to provide a natural looking fixed set of replacement teeth in just one day, with only four implants necessary. Although in some cases more implants can be used, a minimum of 4 implants is needed in order to support a fixed dental bridge.
Am I a candidate for all on 4 dental implants. Using all on 4 dental implants, surgeons are able to provide a comprehensive oral rehabilitation solution to patients who suffer from tooth loss, or those who face a future of not having any teeth at all. We provide a FREE Initial Consultation with no obligation for patients considering all on 4 dental implants. During the free assessment, we can determine if this dental procedure is right for you, and then answer any questions you may have. This type of tooth replacement technique, innovated by dental implant surgeon, Paolo Malo, enables the dental implant practitioner to replace a patient's entire mouth of missing or failing teeth using only four prosthetic implants and a fixed non-removable and fully-customized dental bridge. While all on 4 dental implants may sound incredibly simplistic, the advantages it has over traditional tooth replacement and implant techniques has given it enormously-important status in the medical fields of dental implant and oral rehabilitation.
Back to blogs