Here are a few testimonials from some of our past patients:
When I saw Alison she was very unhappy with her smile. She told me she was very embarrassed about her teeth. I decided (with Alison) after listening to her concerns that a combination of ceramic crowns, veneers and bridges would be the best way to improve her smile.

Out with the discoloured uneven teeth, in with the lovely white smile and all PAIN FREE.

Tooth removal, gum surgery and veneers now all done I can honestly say I never experienced any major discomfort and at no point even with my sensitive teeth and gums did I feel the dreaded injections.

Being an incredibly nervous patient I found your non judgemental calm demeanour instantly inspired confidence, relieving my anxiety and nerves.

The whole team including dental nurses and reception staff are always friendly and efficient.

Mrs Habib is the most caring and gentle of hygienists, I look forward to my appointments with her.

My daughter rather stubbornly refused to open her mouth for previous dentists. With your kind manner and patience she no longer worries about check ups and neither do I.

Alison Palmer-Challis
---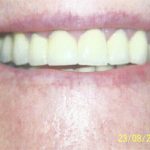 Jackie was very unhappy with her missing teeth and the space between her front teeth and old crowns. After listening to her concerns we decided to place two dental implants and provide new crowns. She was delighted with the final result.

It's so reassuring to know that people do care and listen. Had a bad start at another dentist and I was assured that Dr. Habib would help me. I can smile with confidence again!

Jackie Dore
---
At 76 years old I do not want to loose any more teeth. Although terrified, I went to Surbiton Dental thinking I would have an implant. Dr. Habib explained the alternatives I had. I went for a bridge so instead of having 2 teeth I had 4. Before this experience I was really scared of dentists, as I have been most of my life. NOT ANYMORE.

Dr. Habib has given me confidence again and he always has a smile and is kind, as are all his staff. No pain at all not even the injection!

Scared of dentists? Go and see Dr. Habib, you will not be scared anymore.

Pamela Barrett
---
I have been a patient of Dr. Habib for the last thirty years. I have found not only his level of expertise but also his caring attitude most welcome. He always takes the trouble to explain exactly what he is doing and this is very reassuring when major work has to be done. In all those thirty years, I don't ever remember feeling any pain!

Clifford Cope
---
Wow!! I'm lost for words.. Mr Habib is the best dentist I have ever met.. Very friendly, gentle and extremely professional.. Being in the chair is a pleasant experience now..
He's put my smile and confidence back on my face.. There is nothing this man can't do.. I'm blown away with his magic..
Thank you Mr Habib.

Lisa O'Leary
---
I have been a patient of Dr Habib and Saeeda for many years and the care they provide has always been first class. They are both extremely gentle, kind and very easy to talk to and immediately put you at ease. They explain your treatment and offer advice on how to maintain a clean healthy mouth which is really important for your general wellbeing. The surgeries, waiting room and reception are always immaculate and Nicky, the reception Manager, Dental Nurses and other members of staff are always courteous and greet you with a smile.
If you are looking for a Dentist or wish to change your Dentist give Dr Habib, Saeeda and the rest of their team a try. I am sure you will not regret it. I certainly would never go anywhere else.

Patricia Prior
---
I have been a dentist for 35 Years and obviously have a lot of friends I could go to for my treatment.
I suppose the fact that I go to Dr Habib rather there anybody in my own practice speak volumes for itself!
I have had an implant and routine treatment over the last few years and can honestly say I am very satisfied and have suffered no pain at all .
I know Dr Habib Is conscientious & good at his job.
I wholeheartedly recommend him !

Darashaw Motashaw
---
I have always come here for my dental treatment since I was a child and what I love about this surgery is that Dr Habib and the whole team there are so friendly and kind natured. They make you feel comfortable and talk you through every step which means I am never nervous and I am assured that I am in the best hands. They always treat their patients with the utmost care and are very gentle. Dr Habib is very personable and always makes me feel at ease. The service is excellent and this boutique surgery offers the highest quality and a luxurious environment. I would recommend this surgery to absolutely everyone!

Haniah Nasser
---
Dear Dr W Habib,

I just wanted to say thank you for the amazing work you have done on my teeth.

I have gone from not smiling in photos to not being able to put my teeth away, it has really boosted my confidence, thank you sooooo much! It has been the best decision I have made to go through with it, and completely pain free was a massive bonus.

Can't thank you enough.

Jamie Cottle
---
So Sally, daughter Jessie and I all now live here in LA and so are unfortunately no longer able to be your patients. I just wanted to let you know that we all thought you were the best dentist bar none and appreciate all that you and your staff did for our family over the years.

I hope all is well with you and your family and wish you the very best in the future.

George Andrew
---
Dear Dr Habib,

Having recently finished my treatment with you I felt that I had to write to say thank you for the considerable dental work you carried out for me (6 veneers, 4 caps and 4 bridges).

I was at first a bit concerned as to whether I would be able to withstand all the treatment, but soon found out that I had nothing to worry about. You were always very gentle and made sure that I was numb enough not to feel any pain! I am absolutely thrilled with the end result and am told that I now have a "Hollywood smile".

You also introduced me to Saeeda for hygiene work (something my previous dentist never did). I also found her very gentle and caring and she has shown me how to look after my new teeth properly.

I would also like to thank all your staff for their care and attention and of course some thanks must go to the technicians who make the teeth!

Thank you once again for using your considerable skills to give me the perfect teeth I have always craved. I laugh much more now and I would certainly recommend you to anyone thinking of having cosmetic dentistry.

Best wishes to you all,

Elaine Hawkins
---
Dear Dr Habib,

Now that my six-month course of treatment has come to an end, and my new crowns, bridges and implants have bedded down and I am now able to eat with ease and smile without embarrassment. I would like to thank you very much indeed for the superb professional job you have done to make this happen.

As you will recall, when I came to you six months ago, my teeth needed a radical overhaul. I had a mixture of heavily filled teeth, crowns that were well past their 'use-by-date', and gaps caused by a number of extractions that meant I could only eat on one side of mouth (and that with some difficulty), and I was looking for a good local dentist who would devise a plan to implement the necessary cosmetic and functional improvements at a cost that was hopefully rather less than the astronomical charges of dentists in central London where I work. Having trawled a number of local dentists on the internet, I selected you on the basis of your excellent website. When I came in to see you to discuss the matter, I felt immediately that I had made the right choice. You put me at my ease, showed complete confidence in what I needed to have done, explained the stages of the treatment, and gave me an all-in quotation that was reasonable and had no hidden charges.

When it came to carrying out the treatment, I was greatly impressed by the quality of the work and the great care you took at every stage of it. Although I was rather apprehensive about implants, never having had any before, your careful explanation of the procedure was reassuring and in the event I found it a painless and very successful process. The three implants you inserted have enabled me to eat again on both sides of my mouth, and for that I am immensely grateful.

All in all, I am absolutely delighted with the work you carried out and I will have no hesitation in recommending you to friends and acquaintances whenever an opportunity presents itself. My only regret is that I did not know about you many years ago.

Finally, may I say that your practice is the friendliest and most congenial that I have ever experienced. Nicky on reception and your dental nurses have been unfailingly cheerful and efficient, and Saeeda is quite the most expert (and the most charming) dental hygienist I have known. You are a wonderful team.

Andrew
---
Dear Dr Habib,

Thank you very much for the excellent work you done on my teeth recently.

Despite having crown and bridgework to 19 of my teeth, and having a lifelong fear of pain when dentists get too close to one of my nerves, your gentle treatment, patience and care let me feel comfortable and relaxed during the long spells 'in the chair'.

I knew my teeth had worn down and were very stained, but I hadn't realised how much improvement you could make, and they now look clean and well shaped.

I would have no hesitation in recommending you to my friends and acquaintances, and wish that I myself had transferred to your care a long time ago.

Mark Draper
---
I have been a patient of Dr. Habib for nearly 20 years and despite moving from Surrey to Sussex five years ago I still attend his surgery and would not consider changing my Dentist.

Being of a nervous disposition when it comes to Dentists, I have always found Dr. Habib to be understanding, gentle, and patient when it comes to any work that needs to be carried out.

Over the years I have had fillings, crowns and this year I was brave enough to have an implant, this was major work but I can honestly say that although I was not looking forward to this, he explained in detail every step of the procedure, needless to say it all went well.

I would not hesitate to recommend Dr. Habib to anyone as I find him a super Dentist.

Leane Gardiner
---
I have been a patient of the practice since moving to the area 10 years ago when I needed a dentist after developing a difficult abscess. I was also a very nervouse patient!

Having been recommended to the practice I was enormously grateful to Dr. Habib for seeing me quickly as a new patient and arranging urgent corrective treatment at Kingston hospital.

Since then I have received ongoing excellent care at the practice including crowns, root canal work, a dental implant, and preventative care with the hygienist. Despite initially being a very nervous patient, at no time have I ever suffered any pain or discomfort and am now very much more relaxed. Both Dr. Habib and Saeeda are extremely gentle, patient and kind.

My family have also grown-up benefiting from routine, preventative and cosmetic dental work, and more importantly, with no fear of the dentist.

Many thanks to all concerned, Dr. Habib, Saeeda and Nikki (for patiently juggling appointments and reminders).

Kind regards,

Karen Urwin
---
It's been two days since I came to you for Botox and a teeth clean and polish. My teeth are so clean I can't stop smiling to show them off, I am a smoker but now looks like I've never smoked.

Next step is whitening. I couldn't stop looking in the mirror this morning because my eyes look so much wider, after 2 days I'm amazed. My son asked me tonight why my eyes look bigger. I have had botox before but never had such amazing results, so quickly too! Experience was totally relaxed and comfortable. Thank you so much.

Lesley
---
I have been visiting Wasey's surgery for many years now and can say with complete confidence that he is the most gentle and caring dentist I have been treated by and so are the rest of the team.

I would recommend Surbiton Dental for anyone looking for a boutique, luxury and bespoke treatment and who wants to receive one of a kind attention. It's the personal approach, relaxed atmosphere and genuine care along with the highest quality of work that I appreciate and is why I am now a lifelong loyal customer.

Thank you to Wasey and the team for everything you have done!

Haniah
---
When I saw James he was very unhappy with his smile. He said it was affecting his confidence because his teeth were so discoloured. As the staining was so intense I decided (with James) that crowns would be the best option.
The reason I had a smile makeover was that simply for years I was unhappy with my smile. This situation was only compounded by strangers sporadically grimacing when I smiled leaving me over time with less and less confidence.

When I was young I really should have had a brace for a period, but for whatever reason this did not happen leaving my teeth very "gappy".

To make the situation worse, as a teenager I suffered from acne and in those days (the 1970-80s) it was quite common to prescribe tetracycline as a remedy.

Sadly, it has since been discovered that tetracycline causes permanent discoloration of the teeth later in life.

So, I was in a situation where I had quite "gappy" badly discoloured teeth.

Wasey and his staff took me in hand and gave me a complete smile makeover. This work happened over 3 visits during which Wasey and his staff made me very comfortable.

Expensive? Yes it is. But what price do you put on a simple way to vastly improve your personal confidence.

Thanks and regards,
James Bryers
---
I have always been very pleased with any work you have done for many years on my teeth, but this time you have excelled yourself.

By replacing my broken front teeth and extending the upper plate so well.
They look normal. I am highly delighted

Eileen Warnett
---
I would like to thank you for all the help and kindness you showed to Margaret  during her recent treatment.

Its a pity that there are not more dentists like you.

A great thank you from us both.

Margaret & Bernard Hill